GMT+2
Deutschland, España, France, Italia, Polska, etc.
GMT +1
Portugal, Great Britain
GMT-3
Argentina, Uruguay, Brasil Rio, Chile
GMT-4
Bolivia, Paraguay, Venezuela, East USA, Rep. Dom.
GMT-5
Perú, Ecuador, Colombia, Central USA
GMT-6
Centroamérica, México DF
Chemotherapy
---
Chemotherapy uses special medications to kill cancer cells. It can be given through oral tablets or with drugs injected into the veins. A combination of drugs is usually given in a series of treatments over a period of a few months, with breaks in between so that you can recover.
Chemotherapy for lung cancer can be given before surgery (to shrink the tumour), or after surgery (where the risk of recurrence is high). It can also be combined with radiotherapy. In cases where the cancer has spread beyond the lung to other parts, chemotherapy may be the primary treatment.
---
Radiosurgery
---
Radiosurgery is a non-invasive treatment using precise and intense beams of radiation to target the cancer. It borrows from the term "surgery" as this treatment is considered a form of "bloodless" surgery, where the tumour is destroyed without the need for an operation and its accompanying risks, in just a few outpatient sessions. As radiosurgery involves intense beams of highly focused radiation, advanced radiotherapy machines and sub-specialized expertise are required, and patients must be carefully selected.
Radiosurgery is an example of how recent technological advances have enabled new treatment options in the treatment of lung cancer. Radiosurgery is now recommended in American and European guidelines as an alternative to surgery in patients with high operative risk, and as an option to be discussed in patients with standard operative risk.
---
Targeted Therapy
---
Chemotherapy affects both cancer and normal cells and can cause unwanted side effects. New lung cancer drugs called targeted drug therapies help reduce damage to healthy cells by attacking specific abnormalities on the tumour cells that will disrupt their growth and function.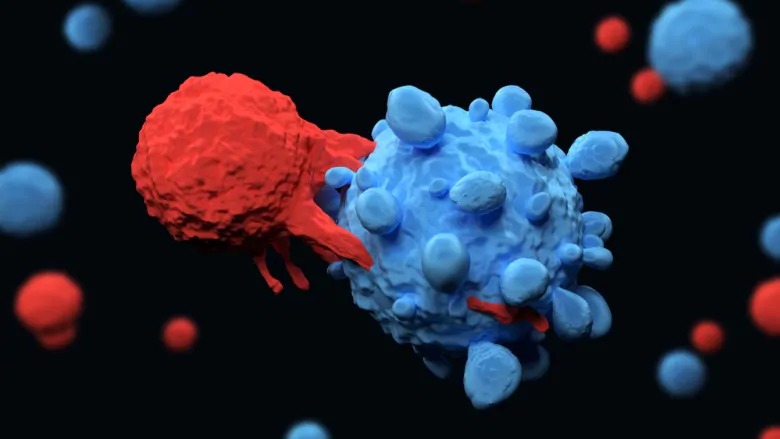 Not all patients are suitable for targeted drug therapy. Before such treatment can be given, a special test called molecular testing will be performed to identify abnormalities on the tumour cells. If abnormalities are identified, a suitable targeted drug will then be selected to treat the cancer. At this moment, targeted drug therapy is used mainly in advanced stage cancers that have spread beyond the lung. Studies are ongoing to see if these drugs can be used for earlier stage cancers.
---
Immunotherapy
---
Immunotherapy is one of the newest treatments for lung cancer. Unlike other treatment, it does not attack cancer cells directly but stimulates a person's immune system to recognise and destroy cells on their own. Such treatments therefore cause fewer side effects and may be more effective.
---
Surgery
---
Surgery may be an option if your cancer is small and is confined to the lungs. Advanced surgical techniques such as laparoscopic (minimally invasive) surgery and video-assisted thoracoscopic surgery (VATS) have been introduced in recent years. These techniques cause less pain and fewer complications and may be recommended by your surgeon.
However, not all patients are suitable for surgery. Many patients with lung cancer are elderly or have pre-existing medical conditions (such as heart disease or diabetes) which place them at higher risk of complications during and after surgery. In such cases, other treatment options such as radiosurgery or chemotherapy/immunotherapy would be safer and more suitable.

---
Targeted Radiotherapy
---
In patients unsuitable for surgery or radiosurgery (such as in larger tumours or more advanced cancers), targeted radiotherapy combined with chemotherapy is usually the primary treatment. It is also sometimes used before or after surgery. Such treatments use radiation beams of lesser intensity then radiosurgery and are delivered over a longer period of 6-7 weeks.
Advanced radiotherapy techniques, such as Intensity Modulated Radiotherapy (IMRT), Volumetric Arc Therapy (VMAT) or Proton Beam Therapy (PBT) are used nowadays to deliver targeted radiotherapy. Compared to radiotherapy a few decades ago, these techniques cause fewer side effects and may be more effective.
---
---
México / Mexico
---
Monterrey YouTube Live: https://www.youtube.com/channel/UCnFr58OHl7vu1TPn_ZJog1A
Querétaro - Ermita Misa Martes a Viernes 19:30, Domingos 13:30 y 19:00
Facebook Live:
https://www.facebook.com/ermita.sch.qro/?__tn__=k*F&tn-str=k*F
Querétaro - Santuario Miércoles a Viernes: 8:00, Sábado y Domingo: 10:00 Facebook Live: https://www.facebook.com/SchoenstattQueretaroMx/
---
Polonia / Poland
---
Misa diaria a las 19:00 horas.​
Facebook Live: https://www.facebook.com/RuchSzensztackiPL/ Dialy mass at 19:00. Facebook Live: https://www.facebook.com/RuchSzensztackiPL/
---
Paraguay
---
Santuario Joven Misa diaria a las 19:30 horas
Facebook Live: https://www.facebook.com/SantuarioJovenPy/?ref=br_rs Daily mass at 19:30. Facebook Live: https://www.facebook.com/SantuarioJovenPy/?ref=br_rs
---
Brasil
---
Santario de Atibaia - Misa diaria a las 17:30 Facebook Live: https://www.facebook.com/santuario.atibaia/videos/1095468997488244/ Santario de Atibaia - Daily Mass at 17:30
Facebook Live:
https://www.facebook.com/santuario.atibaia/videos/1095468997488244/
---
Argentina
---
Tucumán Lunes a sábado 20:00, Domingos 12:00 y 20:00 Facebook Live: https://www.facebook.com/Schoenstatt.tucuman Córdoba Lunes a sábado 20:00 Domingo: 11:30 Facebook Live: https://www.facebook.com/Santuariodelcerrook/ Youtube: https://www.youtube.com/channel/UC1aQjrlKW98rGjm529FTm2A Pilar Lunes a Sábado 18:30, Domingo 11:30 Instagram Live: https://www.instagram.com/schoenstattlosolmos/
---
EEUU / USA
---
Sunday Mass in English in the New York Shrine with Fr. Eric Rapaglia Misa Dominical en Ingles en el Santuario de Nueva York con el P. Eric Rapaglia Eastern Time: 11:15 AM Central Time: 10:15 AM Pacific Time: 8:15 AM Watch Live: www.youtube.com/schoenstattinternational
---
Chile
---
MISAS DIARIAS 08:30 h. (Lu - Sa) P. Luis María Avendaño, Federación de Sacerdotes Dicoesanos de Schoenstatt -Facebook- 11:00 h. (Lu - Do) Santuario Original (Schoenstatt - Alemania) en español o inglés -Web Cam- 12:00 h. (Lu - Sa) Padres de Schoenstatt Santuario Nacional de Maipú -Facebook- 12:00 h. (Ma - Sa) Santuario Ayinrehue (Temuco) -Facebook- 12:00 h. (Sa) Padres de Schoenstatt de la Parroquia Nuestra Señora de los Dolores Santuariouario Nuevo Belén, Santiago - Facebook- 12:00 h. (Sa) Santuario Montahue (Concepción) -Facebook- 19:30 h. (Lu - Do) Santuario Cenáculo de Fundación (Agua Santa, Viña del Mar). -Facebook- Después de la misa, habrá Adoración y rezo de las Vísperas. Puede enviar sus intenciones para la adoración a: intencionesadoracionsch@gmail.com 19:30 h. (Ju) Santuario Montahue (Concepción) -Facebook- 20:00 hrs. (Lu - Vi) Padres de Schoenstatt de la Parroquia Nuestra Señora de los Dolores (Santuario Nuevo Belén, Santiago) -Facebook- 20:00 hrs. (Ma, Mi y Vi) Santuario Montahue (Concepción) -Facebook- MISAS DOMINICALES 10:00 hrs. Padres de Schoenstatt Santuario Nacional de Maipú -Facebook- 11:00 hrs. SANTUARIO NACIONAL CENÁCULO DE BELLAVISTA -por esta página web y Facebook- 11:00 hrs. Santuario Ayinrehue (Temuco) -Facebook- 11:00 hrs. Santuario Original (Schoenstatt - Alemania) en español -Web Cam- 12:00 hrs. Padres de Schoenstatt de Sion Cordillera (Santiago) -YouTube- 12:00 hrs. Santuario Cenáculo de Fundación (Agua Santa, Viña del Mar) -Facebook- 12:00 hrs. Santuario Montahue (Concepción) -Facebook- 12:00 hrs. Padres de Schoenstatt de la Parroquia Nuestra Señora de los Dolores (Santuario Nuevo Belén, Santiago) -Facebook- 12:00 hrs. Padres de Schoenstatt Santuario Nacional de Maipú -Facebook- 18:00 hrs. P. Francisco Pereira, Director Pastoral de Maria Ayuda -Facebook- 19:30 hrs. Santuario Cenáculo de Fundación (Agua Santa,Viña del Mar) -Facebook- Después de la misa, habrá Adoración y rezo de las Vísperas. Puede enviar sus intenciones para la adoración a: intencionesadoracionsch@gmail.com
---
---